Scientific Name:
Lamium amplexicaule
Also Known As:
Purple Deadnettle
Description
Henbit, a member of the mint family, is an upright winter annual that blooms in the spring. The leaves are rounded on the end with rounded toothed edges that grow opposite one another on square stems Upper leaves lack petioles. Henbit can grow from 4- to 12- inches tall on weak stems. Although an upright plant, weak stems sprouting from the bottom may lay almost horizontal. Henbit can be confused with purple deadnettle. The leaves of purple deadnettle, however, are more pointed at the end and are slightly scalloped. The lower leaves of purple deadnettle are on long petioles, the upper leaves are on short petioles. The flowers of henbit are purple, tubular shaped and form in the whorls of the upper leaves. Henbit spreads only by seed and is generally not a problem in dense, vigorous turfgrass sites.  Henbit is found throughout the United States.
Weed Photos: Courtesy of Dr. Lambert McCarty. Clemson University. Clemson, SC.
Herbicide Use
Use a selective post-emergence herbicide taking care to follow spray intervals if treating newly seeded areas. Optimum control will be obtained when henbit is actively growing and in the seedling to flower stage of growth.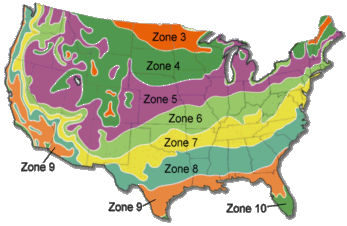 Zone-3: April-September
Zone-4: April-October
Zone-5: March-October
Zone-6: February-November
Zone-7: January-December
Zone-8: January-December
Zone-9: December