Scientific Name:
Geranium molle
Also Known As:
Carolina Geranium
Description
Dovefoot geranium is a biannual plant very similar to the annual Carolina geranium. Dovefoot geranium has slender, weak hairy stems which branch and spread across the surface of the soil. The leaves are palmately lobed. The alternating rounded leaves of dovefoot geranium are not as deeply cut as the leaves of Carolina geranium. Dovefoot geranium spreads by seeds which germinate in fall into the early spring. Bright dark pink to red violet flowers are present in late spring. The seeds of dovefoot geranium are smooth, unlike the wrinkled seeds of Carolina geranium. Flowers of both plants are borne on stalks from the upper nodes. The fruit of both species are born on conspicuous stalks (cranesbill). The fruit stalk of dovefoot geranium is 1-inch long and is much smaller than the 1-inch fruit stalk of Carolina geranium. Dovefoot geranium is found throughout the United States, but is more prevalent in the southeast. 
Weed Photos: Courtesy of Dr. Lambert McCarty. Clemson University. Clemson, SC.
Herbicide Use
For optimum control, make your post-emergence herbicide application to dovefoot geranium that is young and actively growing, prior to late spring flowering.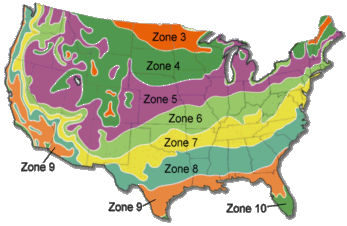 Zone-3: October
Zone-4: November
Zone-5: November
Zone-6: December
Zone-7: December
Zone-8: January-December
Zone-9: January-December